OVERVIEW: Individual Ranch Experience and Riding Sessions are scheduled events, coordinated and scheduled between the Ranch and families in which parents or guardians bring their child to experience the Ranch and ride in the arena, led by our Staff Leaders.
NOTE: All session riding is led by our Staff Leaders (no free riding) at Dare to Dream Youth Ranch, per insurance requirements.
Program Goal: The aim of the experience is to immerse child participants in the Ranch environment, partaking in the chores of the ranch, learning about horses and getting to ride as a reward for their efforts.
Program Participants: Approximately 4-8 children 4-18 years of age, whose parents or guardians bring them to the Ranch for a range of possible outcomes including (but not limited to):
Develop a child's character and confidence

Introduce a child who suffers emotional trauma to the healing power of horses

Aid in a child's developmental progress

Connect a child with a mental or physical disability with the empathy and instinctive nature of horses

Increase the child's knowledge and experience with horses

Expose underserved and at-risk children to an otherwise unattainable experience
Program Tasks: The experience is flexible and can be adjusted to the participant's age, emotional state, cognitive capacity and physical disability. Each participant is unique, and therefore the experience is, too. During this experience, participants will be guided and supported by Ranch staff in a number of structured activities. Participants will work together Ranch staff to complete barn tasks that may include:
Stuffing hay bags

Feeding horses

Cleaning stalls

Sweeping and cleaning the barn

Cleaning paddocks

Filling water troughs

Grooming horses

Learning to tack/de-tack horses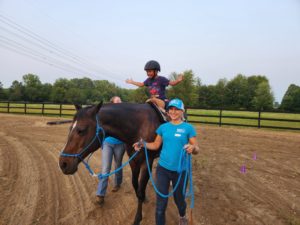 Program Duration: Approximately 2 hours, depending on factors such as weather and the types of activities planned. Riding time in the arena lasts from approximately 20-30 minutes.
Program Cost: $30 per child is the suggested minimum donation, with the understanding that the actual experience cost is much higher in Ranch staff volunteer time and preparation for the session.
How to Get Started: Call or message the Ranch